PinBox 3000 for Educators
PinBox 3000 for Educators
Winner of thirteen ribbons for Educational Excellence from World Maker Faire, 2015-2016
Flip Out With Project Based Learning!
At Cardboard Teck Instantute we believe STEM oriented project based learning plays a crucial role in the development of students. We are pleased to offer our PinBox 3000 customizable tabletop pinball machine to educational programs. The PinBox 3000 gives students the opportunity to expand their classroom experience through hands on activities using simple craft tools, art supplies, and recycled elements.
The PinBox 3000 ramps up students interest in a variety of educational fields. Create a project based activity that integrates with any subject material!
Science

Biology

Chemistry
Art

Design

Electronics, & more!
The PinBox 3000 engages all types of students: gamers, makers, crafters, artists, engineers, and creative thinkers. Teachers can easily integrate thematic subject matter from their courses into fun and educational activities that promote teamwork, problem solving, and design implementation. Students will engage in math, science, and art as they prototype elements of their PinBox 3000 using craft materials or 3D printed objects.
Each PinBox 3000 includes two interchangeable playboards, each with its own flipper and launcher system. This cartridge system allows the platform to extend its life in the classroom by allowing multiple iterations or several students to share one chassis.  
Assembly time is one hour. No tools are required for assembly. The suggested timeline for a workshop using the PinBox 3000 curriculum guide is five sessions of 60-90 minutes each or one full day.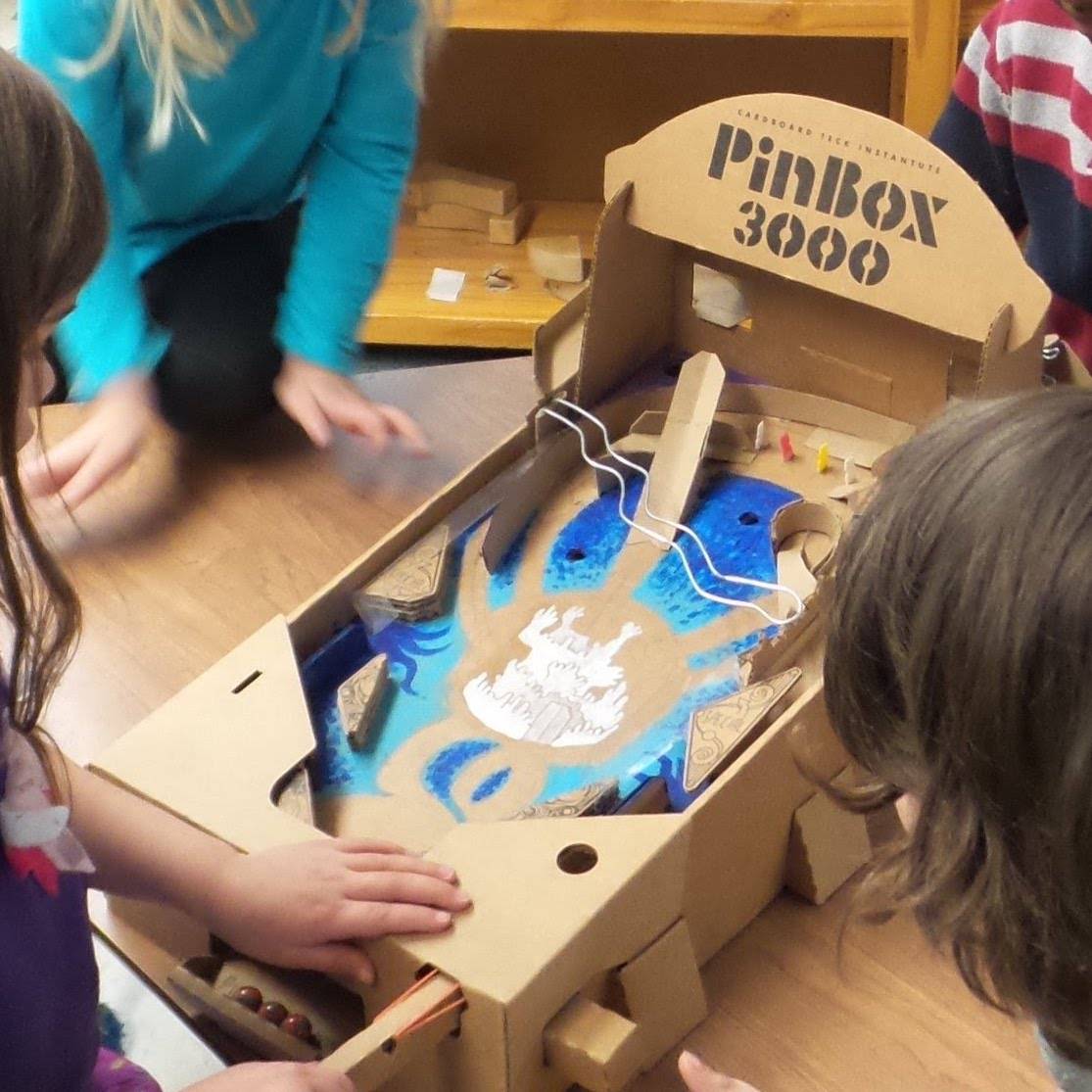 ---
Bring the PinBox 3000 into your Classroom
Each PinBox 3000 Educator Pack comes fully loaded with a variety of materials and additional content!
Twelve individual unassembled kits
Each kit contains 12 die cut slides containing 39 essential parts
Printed graphics on the negative space of each punch out slide for multiple custom themes and inspiration
Two games may be linked together for two player Battlemode (or Super Share Mode)!
Each playboard can be interchanged within the base PinBox 3000 model
Allows for easy transfer of multiple designs and "game" fields
Students can share and play their designs
Makes it easy to reintroduce new classroom material!
Project-based learning pdfs (Elementary, Middle, or High School. Availability TBA)

Physics Curriculum (Availability TBA)

Electronics Curriculum (Availability TBA)

Cardboard Teck Support for classroom integration
Design templates and challenges
Designs for use on laser cutters and 3D printers
We accept purchase orders!
Contact info@pinbox3000.com